Map Viewer
MapPro's Map Viewer function displays a map of licensed counties on the screen.  You may then zoom in on a area of interest by entering either a Zip Code, Census Tract, City, or Map Grid. If none of this information is known you zero-in on the area you are interested in with just three clicks of the mouse. Map Viewer is particularly useful when you don't have an actual property address or you just want to view the map in a specific area.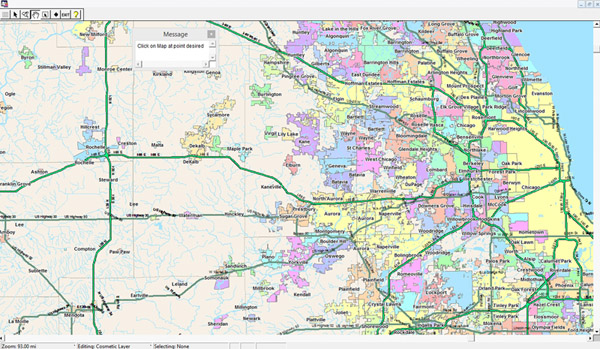 Common Map Viewer/Map Maker Features
Seamless maps across county boundaries.
No map scale limits. Display as little as a city block or show an entire state if desired.
Add your own map layers created with the Database Utility.
Automatic Map Labeling as you pan across the map.
Distance and area units may be displayed in miles, yards, feet, meters, or kilometers.
Ruler Tool for measuring distances either "As the crow flies" or along a route.
Zoom in, zoom out, or pan across map.
Display the latitude/longitude of any location on the map.
A set of drawing tools is provided to allow maps to be annotated with text, lines, circles, rectangles, polygons, or symbols.
All items added to the map are automatically saved with the Map Data File.
Copy the MapPro Map Window into other Windows Applications such as Word, Excel, or Photoshop or save it to File to import later.
Print map sets containing only the maps desired with support for letter, legal and tabloid size paper. Print options provide flexibility in map printing so you can alter the standard printed output page.
Print a formatted map to a PDF file for easy insertion into any report.
User Map Layer allows new streets or other features to be added to the map and saved permanently for use on other maps.